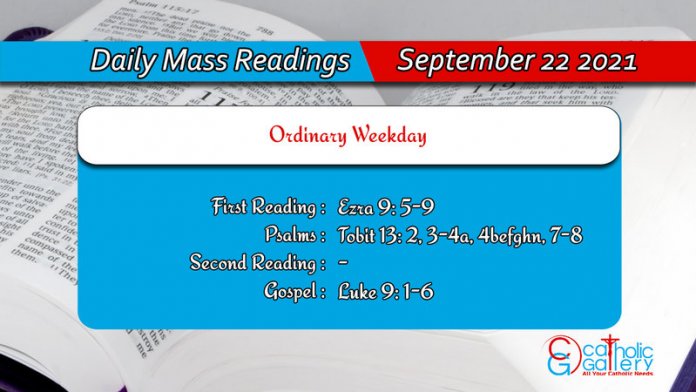 Ordinary Weekday
First Reading: Ezra 9: 5-9
5 And at the evening sacrifice I rose up from my affliction, and having rent my mantle and my garment, I fell upon my knees, and spread out my hands to the Lord my God,
6 And said: My God I am confounded and ashamed to lift up my face to thee: for our iniquities are multiplied over our heads, and our sins are grown up even unto heaven,
7 From the days of our fathers: and we ourselves also have sinned grievously unto this day, and for our iniquities we and our kings, and our priests have been delivered into the hands of the kings of the lands, and to the sword, and to captivity, and to spoil, and to confusion of face, as it is at this day.
8 And now as a little, and for a moment has our prayer been made before the Lord our God, to leave us a remnant, and give us a pin in his holy place, and that our God would enlighten our eyes, and would give us a little life in our bondage.
9 For we are bondmen, and in our bondage our God hath not forsaken us, but hath extended mercy upon us before the king of the Persians, to give us life, and to set up the house of our God, and rebuild the desolations thereof, and to give us a fence in Juda and Jerusalem.
Responsorial Psalm: Tobit 13: 2, 3-4a, 4befghn, 7-8
2 For thou scourgest, and thou savest: thou leadest down to hell, and bringest up again: and there is none that can escape thy hand.
3 Give glory to the Lord, ye children of Israel, and praise him in the sight of the Gentiles: Because he hath therefore scattered you among the Gentiles,
4 who know not him, that you may declare his wonderful works, and make them know that there is no other almighty God besides him.
7 Be converted therefore, ye sinners, and do justice before God, believing that he will shew his mercy to you.
8 And I and my soul will rejoice in him. Bless ye the Lord, all his elect, keep days of joy, and give glory to him.
1 Then calling together the twelve apostles, he gave them power and authority over all devils, and to cure diseases.
2 And he sent them to preach the kingdom of God, and to heal the sick.
3 And he said to them: Take nothing for your journey; neither staff, nor scrip, nor bread, nor money; neither have two coats.
4 And whatsoever house you shall enter into, abide there, and depart not from thence.
5 And whosoever will not receive you, when ye go out of that city, shake off even the dust of your feet, for a testimony against them.
6 And going out, they went about through the towns, preaching the gospel, and healing everywhere.
The readings on this page are taken from the Douay-Rheims Catholic Bible. You can also read the Mass Readings taken from the
New Jerusalem Bible
, which is used at Mass in most of the English-speaking world. (
References
,
Copyrights
)