Third Sunday in Ordinary Time
Also Read: Mass Readings for 22 January 2023 Mass Reading Reflection for 22 January 2023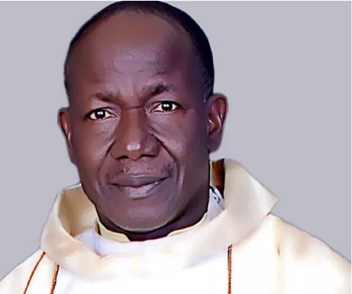 Black lives matter. Black lives matter in Africa too. Black lives matter even if they are Christians, even if they are a minority. Indeed, all lives matter, no matter black, white or colored. Lives matter even if they are yet to be born or terminally ill. This response is prompted by the news that just appeared.
Last Sunday, 15th of January 2023, at 3.00 am local time, Rev. Fr. Isaac Achi, a Nigerian Catholic priest belonging to the diocese of Minna, was killed. Before he could celebrate the Sunday Mass with his beloved people before he could deliver the beautiful homily he prepared for the people, he was charred to death by some terrorists. It is a sad reality that many parts of the world are faster becoming unsafe for Christians. Praying for Fr. Isaac and the hundreds of others killed and tortured for being Christians in Africa and elsewhere in the world, let us reflect upon what Jesus is telling us today.
Today's Gospel is about Jesus making three choices as he was embarking upon his ministry.
The place: He chose Capernaum to be the base of his ministry. He did not start preaching from the courtyards of the Jerusalem temple. He started from the Galilee of Gentiles! It was a town with different raises and cultures. There were Jews and their synagogues. It was also a town housing people belonging to different religions: hence the nickname Galilee of Gentiles. It was a town where they cohabited despite their differences.
Jesus was proving that he was not just for Jews alone; he was for the gentiles too! He was there to break the walls of hatred that existed among different faiths. He stretched out his healing hands to both gentiles and Jews. His Good news was meant for both. The barrios did not matter to Jesus.
Jesus is for all. Jesus is not just for Christians alone. Jesus is also for Jews, Muslims, Hindus, Buddhists, atheists, and so on. The good news has to be shared. It has to be shared with joy and enthusiasm. It is not about conquering; it is about joyfully sharing. Preaching the gospel through words and deeds is our joyful and sacred responsibility.
The people: He chose some very ordinary people, some fishermen, to be his close companions. They never belonged to the upper society. Their knowledge beyond fishing was negligible. Yet they were chosen to be his key partners.
You too are chosen! You are chosen to be a partner of Jesus. You are not chosen because you are qualified. You are qualified because you are chosen by Jesus; chosen to be his witness wherever you are. Be bold and be witness to the risen Lord through your words and deeds day in and day out.
The phrase: He started with a very simple call, "Repent, for the kingdom of heaven is at hand." Nothing spectacular about the call. Yet it is so powerful. He calls us to repent. He knew it was sin that blocked us away from the gates of the kingdom of heaven. Once we repent the kingdom is at arm's length. The only key that lets us into the kingdom of God is repentance.
The prophets of the Old Testament repeatedly called out to repent. John the Baptist repeated it. Jesus opened his ministry with the call to repent. All because all of us are important to God.
Indeed, we all matter to God. Nothing else matters to Him as much. The color, the wealth, the education, the power, the raise…, nothing matters to Him as much as you matter to God.
Let us also pray for those who took the life of Rev. Fr. Isaac Achi and many others in recent years, that let the barrios of hatred in their hearts be crumbled with the sacred blood of Jesus. Jesus died on the cross for them too.
Amen.