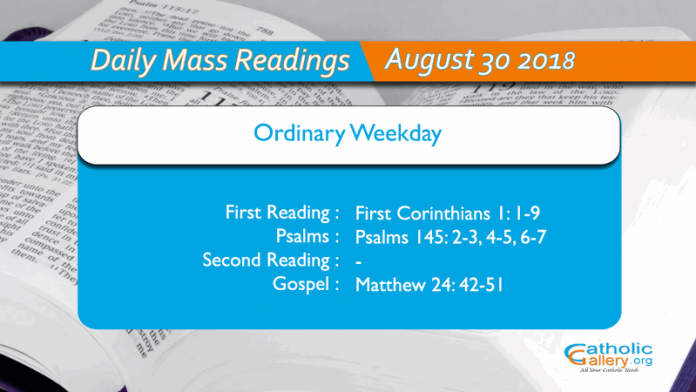 Ordinary Weekday
1 Adam, Seth, Enos,
2 Cainan, Malaleel, Jared,
3 Henoc, Mathusale, Lamech,
4 Noe, Sem, Cham, and Japheth.
5 The sons of Japheth: Gomer, and Magog, and Madai, and Javan, Thubal, Mosoch, Thiras.
6 And the sons of Gomer: Ascenez, and Riphath, and Thogorma.
7 And the sons of Javan: Elisa and Tharsis, Cethim and Dodanim.
8 The sons of Cham: Chus, and Mesrai, and Phut, and Chaanan.
9 And the sons of Chus: Saba, and Hevila, Sabatha, and Regma, and Sabathaca. And the sons of Regma: Saba, and Dadan.
Responsorial Psalm: Psalms 145: 2-3, 4-5, 6-7
2 Every day I will bless thee: and I will praise thy name for ever; yea, for ever and ever.
3 Great is the Lord, and greatly to be praised: and of his greatness there is no end.
4 Generation and generation shall praise thy works: and they shall declare thy power.
5 They shall speak of the magnificence of the glory of thy holiness: and shall tell thy wondrous works.
6 And they shall speak of the might of thy terrible acts: and shall declare thy greatness.
7 They shall publish the memory of the abundance of thy sweetness: and shall rejoice in thy justice.
42 Watch ye therefore, because ye know not what hour your Lord will come.
43 But know this ye, that if the goodman of the house knew at what hour the thief would come, he would certainly watch, and would not suffer his house to be broken open.
44 Wherefore be you also ready, because at what hour you know not the Son of man will come.
45 Who, thinkest thou, is a faithful and wise servant, whom his lord hath appointed over his family, to give them meat in season.
46 Blessed is that servant, whom when his lord shall come he shall find so doing.
47 Amen I say to you, he shall place him over all his goods.
48 But if that evil servant shall say in his heart: My lord is long a coming:
49 And shall begin to strike his fellow servants, and shall eat and drink with drunkards:
50 The lord of that servant shall come in a day that he hopeth not, and at an hour that he knoweth not:
51 And shall separate him, and appoint his portion with the hypocrites. There shall be weeping and gnashing of teeth.